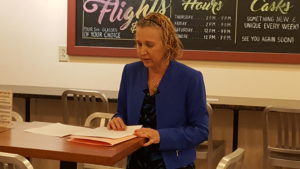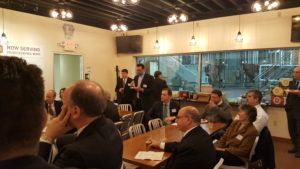 On Wednesday, October 26, 2016 the Officers and Directors of the Middle District North Region successfully presented the Oktoberfest CLE/Social at the Susquehanna Brewing Company, 635 South Main Street, Pittston, PA.  Matt Keris, Ryan Blazure, Ryan McBride, Rob Aldrich, Ann Farias, Kim Moraski, Frank Brier did an excellent job in planning, organizing and executing the plan for this great function.  The Honorable Lesa S. Gelb was the speaker and provided incite to the "Luzerne County Court – Past, Present and Future".  We thank Judge Gelb for her excellent presentation.  The attorneys present received 1 CLE credit.  After Judge Gelb's presentation, the participants were treated to a great menu of Susquehanna Brewing Company beers along with brats, Old Forge Pizza and hot wings.  All who attended were treated to good information, good beer and wine, good food and a lot of great camaraderie with colleagues.  It was a great night.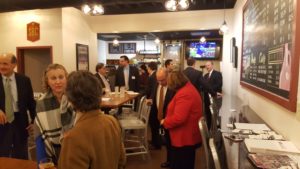 PDI wants to thank the sponsors of the event:  IME Care Center, At the Scene, Inc., ADR Options, Courtside Documents, and Northeastern Rehabilitation.  The sponsors support and attendance at the event helped to make this a great event.  We also had several State Wide Sponsors attend, including:  Network Depositions, Record Trak, and CED Engineers.  Our State Sponsors are of great importance to PDI and allow the organization to continue to provide the excellent benefits to our members.
PDI Officers and Directors thank everyone for attending and making this event a success.