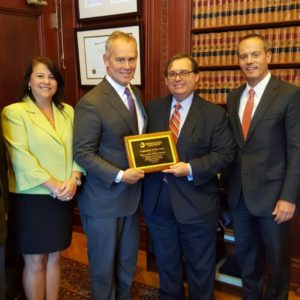 On Tuesday, October 25, 2016, PDI Officers, Lou Long, President, Lisa Katterman,  Vice President, and Jason Banonis, Treasurer visited the Capital and made a tour of the offices of key leaders and committees to discuss the assistance PDI can provide to the legislators during this year.  Bob Keaton, PDI's Legislative Consultant, did an excellent job in setting  up a rigorous schedule for the PDI contingent.  The PDI Officers met with the following: Representative Tina Picket, Chair of House Insurance Committee; Representative Ron Marsico, Chair of House Judiciary Committee; Representative Mike Turzai, Speaker of the House; Mark Meyer, Chief of Staff to Senate Majority Leader, Jake Corman; Mike Cortez, Executive Director of Senate Labor & Industry Committee;  and John Scarpato, Executive Director of House Labor & Industry Committee.  The PDI Legislator of the Year Award was presented to Speaker Turzai by PDI President Lou Long.
Following lunch with Sam Marshall of the Insurance Federation, the PDI Officers went to the Insurance Department and met with Chris Monahan and his staff.
The tour was a success.  This was the first step in making our State Leaders aware that PDI a group that can assist the Legislature and the Insurance Department by having our substantive committees become involved in being a resource of information for the Legislature and Insurance Department.